Why work with The HostMaster
Why work with The HostMaster
We are specializing in property management in Athens, taking care of our guests' needs by providing first-class services. We pay attention to the details and place a high value on customer service, ensuring our experienced team gives the same valuable service to every single one of our guests. 
This translates to more guests, repeat visits, and ultimately, higher returns. Being an Airbnb Superhost with 500 positive reviews and a 5/5 average apartment rating, our reviews speak for themselves. Enjoy a passive income with complete peace of mind.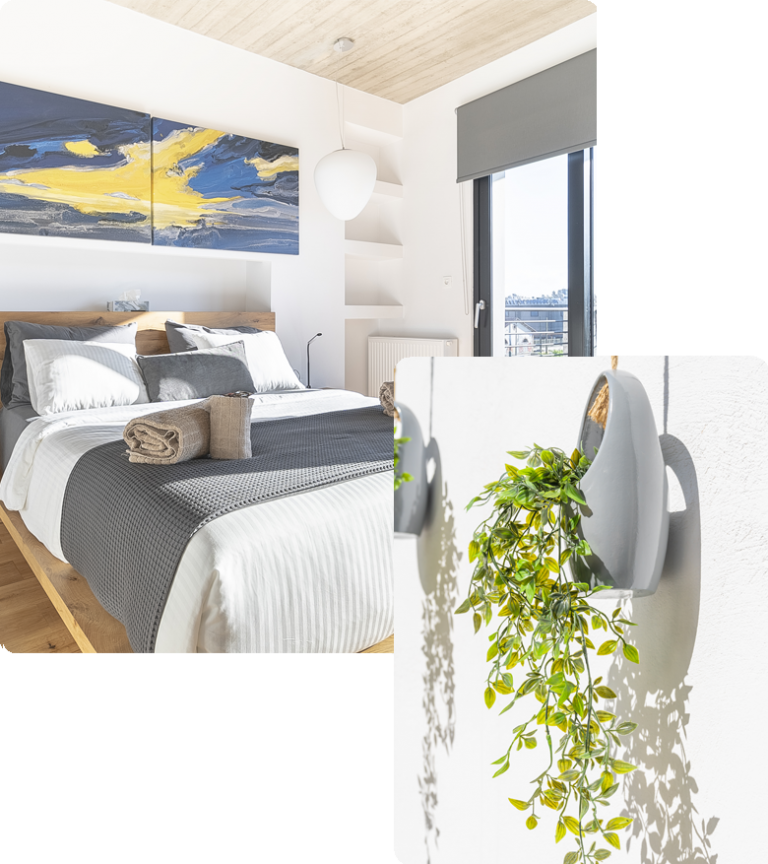 Earn more from your property
By using a combination of cutting-edge pricing optimization software and our extensive knowledge of the local market, we make sure to optimize your property's nightly rate, maximizing your revenues.

Hassle-free hosting
Seize the opportunity, without the stress. By outsourcing the whole process to us, you can simply earn the money your property generates, while we make sure all your guests enjoy a memorable stay.

Your property in expert hands
We're owners too, so we understand how important it is to trust the people entering your property. This is why, prior to any booking, we ensure that all safety protocols are strictly adhered to. After every booking, your space will be professionally cleaned, restocked, and thoroughly inspected for damage.
Here you can read reviews we have received and we will be very happy if you leave us yours!
Ονομάζομαι Κωστούλα Ανδριανη και έχω ένα ακίνητο στην Αθήνα το οποίο εμπιστεύτηκα στην εταιρεία The HostMaster και την Εμμανουέλα προσωπικά από την πρώτη στιγμή της επικοινωνίας μας. Από την πρώτη μας συνάντηση κατάλαβα πως αγαπάει πολύ την δουλειά της και έχει δημιουργήσει μια ομάδα που μπορεί να προτείνει λύσεις αλλά και να φέρει εις πέρας κάθε εργασία που θα τους ανατεθεί! Η δημιουργικότητα και η φαντασία της μπορεί να σε βγάλει εύκολα από όλες τις δύσκολες καταστάσεις. Εύχομαι η εταιρεία να ανθίσει και περισσότεροι άνθρωποι να επωφεληθούν από τα ταλέντα τους και την εργατικότητα τους! Καλή συνέχεια!
Η εμπειρία μου σαν ιδιοκτήτρια από την The Host Master είναι εξαιρετική. Παρά την προμήθεια που εισπράττει η εταιρεία, είδα τα εισοδήματά μου να αυξάνονται γιατί μειώθηκαν κατά πολύ τα έξοδα. Ο καθαρισμός είναι άψογος και πιο οικονομικός, το ίδιο και οι τεχνικοί που προσφέρουν τις υπηρεσίες τους. Το διαμέρισμά μου διαφημίζεται σε πολλές πλατφόρμες και την περίοδο της πανδημίας δεν έχει μείνει ούτε μία μέρα ανοίκιαστο, πράγμα που ειλικρινά δεν το περίμενα... Τα προβλήματα που ανακύπτουν επιλύονται σε χρόνο μηδέν και η επαφή με τους πελάτες γίνεται με ευγένεια και αποτελεσματικότητα. Η μεταξύ μας επικοινωνία είναι πολύ ευχάριστη, γιατί τα άτομα της εταιρείας, από τη μία μεριά, με συμβουλεύουν για το πώς να επιλύουμε προβλήματα και πώς να κάνουμε πιο ευχάριστη τη διαμονή των ενοίκων ενώ, από την άλλη, δεν παίρνουν καμία απόφαση χωρίς την έγκρισή μου. Νιώθω ότι έχω καλούς και έμπιστους συνεργάτες, που έχουν κάνει τη ζωή μου πιο εύκολη και με έχουν απαλλάξει από ένα σωρό έγνοιες. Πραγματικά χαίρομαι για αυτή τη συνεργασία και τη συστήνω ανεπιφύλακτα!
Efstathios Pilitsidis
02/03/2021
I could never imagine I would find a place, which makes me feel like living at my home. Emmanouela is an exceptional host, quick and accurate, giving assistance whenever it was necessary. Netflix, wi-fi, security system and any kind of amenity makes you feel comfortable and safe! Excellent, clean and stylish park view spot, near restaurants and bars. Metro station of Kerameikos is also easy reached! Emmanouela I'm looking forward to staying at your place again!
'The Host Master' company with a special emphasis on details. Emmanuela stands out for her good organisation skills, her kindness and the spirit of cooperation that she possesses. We are happy to work with professionals in the field who can take you a step further with their method. Thank you, Emmanuela 'The Host Master' who chose us as partners for the cleaning of the houses he manages.
ΓΕΩΡΓΙΟΣ ΑΝΔΡΙΚΟΠΟΥΛΟΣ
26/02/2021
Beautiful apartment ,modernly decorated and clean, close to everything . Photos are real and the hostess very friendly!
Dimitris Georgakopoulos
26/02/2021
The hostmaster provides exceptional service for those looking to rent their property on a short term basis. Emmanuela, the host, has years of experience is organized and goes above and beyond for you. Highly recommended as a property manager and among the best I've met over the years interacting with various property managers.
Maximilian Richter
25/02/2021
Hostmaster is the best AirBNB professional hosting service i've ever used. Completely professional and always willing to go above and beyond both for property owners and for guests. I recommend unreservedly.
Kolonaki Omirou
24/02/2021
Emmanuela manages my apartment in Athens and I am very happy to give her top marks. She is exceptionally professional in her approach is very transparent in her communication and takes great care on maintaining the reputation of her company towards clients and partners. She is very responsive and hands on and pays special attention to detail. A pleasure to deal with.
A very reliable company offering Airbnb management services in Athens - Greece. Highly recommended if you are looking to find great apartments to stay during your visit to Athens.
We designed our services with the main purpose of providing a memorable experience to both the property owners and guests. We are offering an all-around service to our guests, which enables us to unburden you from all the chores related to property management and rental, maximizing your income as well as your guest's satisfaction.
We designed our services with the main purpose of providing a memorable experience to both the property owners and guests. We are offering an all-around service to our guests, which enables us to unburden you from all the chores related to property management and rental, maximizing your income as well as your guest's satisfaction.
Airbnb Management Services
As an Airbnb host you want your home looking flawless and always ready for guests,but this can be a time-consuming...
Do you want to earn money through your rental property? Let us handle the subletting and generate revenue while you're away.
We specialize in block management, providing each client with tailor-made services to meet their requirements.
The Hostmaster can take on the ongoing management of your property. Managing all the aspects such as collecting rent, taking care of the property maintenance and handling the disputes between tenants.
We take care of all the processes prior to tenancy. We handle all the legal contracts and compliance agreements, so you don't have to.
The Hostmaster's property management experts are available 7 days a week, to handle all the incoming inquiries and provide apartment viewings for each interested guest.
Do you need a specialist?
Contact us
Do you need a specialist?
Contact us
Maximize the exposure of your listing
In a tough housing rental market, it is important to have global exposure of your property.  In our experience, the strength of the marketing approach determines both the quality and the number of bookings. We reach global audiences through numerous booking platforms such as Airbnb, Booking, Tripadvisor, Homeaway – Vrbo, Erasmusu and more! That is our expertise. We do the marketing for you.
Refer a homeowner to become a host today and earn one of these amazing rewards:

Earn up to 300 euros off your next bill
or
Receive a 2-night free stay with in one of the apartments of "The HostMaster"
Whether you're a guest or a property owner sign up in our newsletter to receive directly in your inbox our offers, "The Hostmaster's" news, tips and many more
This location could not have been better. The views of Athens, the Acropolis, and the Parthenon were amazing and, if anything, understated in the description. Lounging by the pool at night the Parthenon was bright and large on the horizon. The internet was fast and each room had smart TVs with Netflix built in for down time. This is an ultra-modern apartment. The window into the bottom of the pool in the ceiling of the living room was a great surprise and made for some excellent photos of the kids asking like fools in the water. The lights from the city through the water made dappled shadows on the living room walls at night. For a very urban location the apartment is very quiet inside. The apartment was very well furnished with modern, comfortable, and clean furniture. The bathrooms were luxurious and also very clean. The kitchen had everything you could possibly need with one exception- For a city that takes it coffee very seriously the coffee machine in the location is sub par and something you'd find in any low end hotel. Considering we discussed the importance of good coffee prior to arriving this was especially disappointing. This might not be a big deal to some folks, but it was to us and definitely out of place with attention to detail paid to the rest of the apartment. Otherwise everything was perfect. Emmanuela, our host, was extremely helpful in booking all of our transportation as well as engaging, informative, and exclusive excursions (including a catamaran tour with food and drinks inclusive on the Aegean Sea) and tours. The process for these services were extremely reasonable. We were very pleased with all of our tour guides. At first arrival the house might appear to be poorly located, and in a slightly rough neighborhood. We quickly discovered that this is not the case. We were just a few steps from excellent food and sights - completely safe and sound. Speaking of food, the souvlaki restaurant (Ψησταριά - Ο Πέτρος - Πιάτσα Καλαμάκι - Souvlaki στα κάρβουνα) directly next door to the entrance of the apartment is fantastic. As ex-pats we're more well heeled than most Americans but we found thew location extremely walk-able. All of the famous neighborhoods are just a short walk away. We walked past the Parthenon to the apartment many times during our stay and from most of the downtown districts you might like to see. We did not need to taxi at all. Recommended local places: Underdog Iraklidon 8, Athina - 10 min walk -Brunch Λεμονανθός Lemonanthos (Lemon tree) Troon 34 - 15 min walk - Dinner - AMAZING - excellent people - excellent food Pervoli Vari - Aten, Kirgion, Vari 166 - We booked this with Emmanuela for a tour and olive oil tasting (we found out later that she does honey tasting and production tours as well) I cannot recommend this place, its owner, and its restaurant higher - You must go here. Worth the trip. Emmanuela also booked us for a food tasting tour through the city ending with a wine tasting. This was awesome and I learned so much about the area and foods I would have never even seen. I highly recommend this location. I plan on using it again when we come back in the spring.

One of the BEST Airbnbs I've stayed at! The space is modern and extremely clean--Emmanuela has literally thought of everything to ensure you have an enjoyable an care free stay. The guide book (of which she emails a PDF version in advance) answers practically every question you can think of, complete with photos of icons of every amenity, its location, and operation. Emmanuela is extremely communicative, detailed and organized. She was gracious enough to allow us early check-in, even though we had just booked the night before. As we were stuck in Milos due to bad weather conditions and had to make a last minute flight and stay in Athens, we were extremely grateful for this as we were exhausted from all the travel and delays. I would not hesitate to stay here again and recommend her BNB to anyone traveling to the city. Easy train ride to and from the airport and centrally located.

Thank you so much!

Emmanuela's Athens condo is amazing. We are a family of 5 and it was perfect for us. After 2 weeks of travel, we were pretty much ready to head home and THEN we arrived at her place and we got our travel mojo back. It's even better than the photos. It's very stylish, totally kitted out, exceptionally clean and OMG THAT POOL!!! We loved being walking distance from the Acropolis, close to trendy restaurants and the pool was such a treat to cool off in the city at the end of each day. The information and suggestions provided were perfect. Emmanuela met us at check-in and answered all of our questions. We would DEFINITELY stay here on our next visit. This is my favourite AirBNB to-date.

Best, Cindy and The Ball Family

Πραγματικά καταπληκτικό για διαμονή! Πλήρως εξοπλισμένο! Ένα σύγχρονο loft, με ενιαίο χώρο, στην καρδιά της πόλης. Η εξυπηρέτηση και οι οδηγίες ήταν ΑΨΟΓΕΣ. Οι ιδιοκτήτες έχουν ετοιμάσει έναν ΚΑΤΑΠΛΗΚΤΙΚΟ οδηγό για όλες τις συσκευές του σπιτιού, και ο,τιδήποτε σκεφθείς να χρησιμοποιήσεις, με σημειώσεις για το που βρίσκεται τί. Όλος ο εξοπλισμός είναι καινούργιος και υψηλής αισθητικής, μοντέρνος και φροντισμένος. Καταπληκτικό το τζάκι. Πολύ μεγάλη βεράντα. Μεγάλα παράθυρα με πολύ καλή συσκότιση. Δύο τηλεοράσεις, στο σαλόνι και απέναντι από το κρεβάτι. Απέναντι από την Τεχνόπολη και το Πάρκο Κεραμικού. Δίπλα στην Πειραιώς, με μεγάλο δρόμο μπροστά και κοντά στις γραμμές του τρένου που μπορεί η φασαρία να ενοχλεί κάποιους, αλλά είναι δίπλα στο μετρό και σε όλες τις συγκοινωνίες, ενώ παρέχει parking - παροχή που δύσκολα βρίσκεις σε σπίτια στην Αθήνα. Πολύ καλή θέρμανσ-κλιματισμός, καινούργιο και πλήρως εξοπλισμένο μπάνιο. Η κουζίνα επίσης πλήρως εξοπλισμένη, δεν της έλειπε κυριολεκτικά τίποτε - μόνη βελτίωση η εγκατάσταση μεγάλου, αντί μικρού, ψυγείου, που όμως δεν θα ταιριάζει εύκολα στο design του σπιτιού. Σαλόνι για βραβείο, που βλέπεις ταυτόχρονα θέα, τζάκι και TV. Πιο πίσω τραπέζι και σκαμπώ μπαρ για ποτό ή φαγητό. Γραφείο για εργασία και πολύ καλό και μεγάλο κρεβάτι. Με λίγα λόγια, πραγματικά από τα καλύτερα AirBnB που έχω μείνει. Λίγο ακριβό, αλλά αξίζει τα χρήματά του, ιδίως στην καραντίνα που το πέτυχα μάλλον σε προσφορά! Και η υπεύθυνη της εταιρείας διαχείρισης, η Εμμανουέλα, πραγματικά άμεση στις απαντήσεις και εξυπηρετική σε όλα: φρόντισε για επιπλέον μερίδες καφέ στην Illy Espresso καφετιέρα (με τις ειδικές κάψουλες της Illyπου δεν βρίσκεις εύκολα) αλλά και για μπριγκέτες ξύλου για το ενεργειακό τζάκι μέσα σε λίγες ώρες.

Μπράβο!

Amazing home, stylish, perfectly clean, very comfortable bed and pillows, great security for my precious items, alarm system, great bathroom, parking space, the house is in a great location of Athens, it provides privacy and the windows are completely sound proofing. The illy coffee was amazing, kitchen fully equipped, Air conditioning is more than enough with 2 of them for the entire place, Athens was hot on the days of my stay and I used only the one AC. Emmanuela is ultra professional everything was perfectly explained on a home notebook. One of my best airbnb experiences.

Definitely will book again.

This place ranks amongst the best listings I've ever stayed in. Should get an Airbnb prize! Seriously nicely done in terms of the contemporary architecture, design, amenities, and functionality. I can't say enough good things about it. Of course, the rooftop with pool is the eye-catcher, and if the weather is nice (which is most of the time in Athens), you won't want to leave it. Even better than the pictures, and Emmanuela from the Hostmaster company was super friendly and efficient in communications and instructions. A dream place, really.

Overall, OUTSTANDING!
Amazing home, stylish, perfectly clean, very comfortable bed and pillows, great security for my precious items, alarm system, great bathroom, parking space, the house is in a great location of Athens, it provides privacy and the windows are completely sound proofing. The illy coffee was amazing, kitchen fully equipped, Air conditioning is more than enough with 2 of them for the entire place, Athens was hot on the days of my stay and I used only the one AC. Emmanuela is ultra professional everything was perfectly explained on a home notebook. One of my best airbnb experiences.

Definitely will book again.

Πραγματικά καταπληκτικό για διαμονή! Πλήρως εξοπλισμένο! Ένα σύγχρονο loft, με ενιαίο χώρο, στην καρδιά της πόλης. Η εξυπηρέτηση και οι οδηγίες ήταν ΑΨΟΓΕΣ. Οι ιδιοκτήτες έχουν ετοιμάσει έναν ΚΑΤΑΠΛΗΚΤΙΚΟ οδηγό για όλες τις συσκευές του σπιτιού, και ο,τιδήποτε σκεφθείς να χρησιμοποιήσεις, με σημειώσεις για το που βρίσκεται τί. Όλος ο εξοπλισμός είναι καινούργιος και υψηλής αισθητικής, μοντέρνος και φροντισμένος. Καταπληκτικό το τζάκι. Πολύ μεγάλη βεράντα. Μεγάλα παράθυρα με πολύ καλή συσκότιση. Δύο τηλεοράσεις, στο σαλόνι και απέναντι από το κρεβάτι. Απέναντι από την Τεχνόπολη και το Πάρκο Κεραμικού. Δίπλα στην Πειραιώς, με μεγάλο δρόμο μπροστά και κοντά στις γραμμές του τρένου που μπορεί η φασαρία να ενοχλεί κάποιους, αλλά είναι δίπλα στο μετρό και σε όλες τις συγκοινωνίες, ενώ παρέχει parking - παροχή που δύσκολα βρίσκεις σε σπίτια στην Αθήνα. Πολύ καλή θέρμανσ-κλιματισμός, καινούργιο και πλήρως εξοπλισμένο μπάνιο. Η κουζίνα επίσης πλήρως εξοπλισμένη, δεν της έλειπε κυριολεκτικά τίποτε - μόνη βελτίωση η εγκατάσταση μεγάλου, αντί μικρού, ψυγείου, που όμως δεν θα ταιριάζει εύκολα στο design του σπιτιού. Σαλόνι για βραβείο, που βλέπεις ταυτόχρονα θέα, τζάκι και TV. Πιο πίσω τραπέζι και σκαμπώ μπαρ για ποτό ή φαγητό. Γραφείο για εργασία και πολύ καλό και μεγάλο κρεβάτι. Με λίγα λόγια, πραγματικά από τα καλύτερα AirBnB που έχω μείνει. Λίγο ακριβό, αλλά αξίζει τα χρήματά του, ιδίως στην καραντίνα που το πέτυχα μάλλον σε προσφορά! Και η υπεύθυνη της εταιρείας διαχείρισης, η Εμμανουέλα, πραγματικά άμεση στις απαντήσεις και εξυπηρετική σε όλα: φρόντισε για επιπλέον μερίδες καφέ στην Illy Espresso καφετιέρα (με τις ειδικές κάψουλες της Illyπου δεν βρίσκεις εύκολα) αλλά και για μπριγκέτες ξύλου για το ενεργειακό τζάκι μέσα σε λίγες ώρες.

Μπράβο!

This location could not have been better. The views of Athens, the Acropolis, and the Parthenon were amazing and, if anything, understated in the description. Lounging by the pool at night the Parthenon was bright and large on the horizon. The internet was fast and each room had smart TVs with Netflix built in for down time. This is an ultra-modern apartment. The window into the bottom of the pool in the ceiling of the living room was a great surprise and made for some excellent photos of the kids asking like fools in the water. The lights from the city through the water made dappled shadows on the living room walls at night. For a very urban location the apartment is very quiet inside. The apartment was very well furnished with modern, comfortable, and clean furniture. The bathrooms were luxurious and also very clean. The kitchen had everything you could possibly need with one exception- For a city that takes it coffee very seriously the coffee machine in the location is sub par and something you'd find in any low end hotel. Considering we discussed the importance of good coffee prior to arriving this was especially disappointing. This might not be a big deal to some folks, but it was to us and definitely out of place with attention to detail paid to the rest of the apartment. Otherwise everything was perfect. Emmanuela, our host, was extremely helpful in booking all of our transportation as well as engaging, informative, and exclusive excursions (including a catamaran tour with food and drinks inclusive on the Aegean Sea) and tours. The process for these services were extremely reasonable. We were very pleased with all of our tour guides. At first arrival the house might appear to be poorly located, and in a slightly rough neighborhood. We quickly discovered that this is not the case. We were just a few steps from excellent food and sights - completely safe and sound. Speaking of food, the souvlaki restaurant (Ψησταριά - Ο Πέτρος - Πιάτσα Καλαμάκι - Souvlaki στα κάρβουνα) directly next door to the entrance of the apartment is fantastic. As ex-pats we're more well heeled than most Americans but we found thew location extremely walk-able. All of the famous neighborhoods are just a short walk away. We walked past the Parthenon to the apartment many times during our stay and from most of the downtown districts you might like to see. We did not need to taxi at all. Recommended local places: Underdog Iraklidon 8, Athina - 10 min walk -Brunch Λεμονανθός Lemonanthos (Lemon tree) Troon 34 - 15 min walk - Dinner - AMAZING - excellent people - excellent food Pervoli Vari - Aten, Kirgion, Vari 166 - We booked this with Emmanuela for a tour and olive oil tasting (we found out later that she does honey tasting and production tours as well) I cannot recommend this place, its owner, and its restaurant higher - You must go here. Worth the trip. Emmanuela also booked us for a food tasting tour through the city ending with a wine tasting. This was awesome and I learned so much about the area and foods I would have never even seen. I highly recommend this location. I plan on using it again when we come back in the spring.

This place ranks amongst the best listings I've ever stayed in. Should get an Airbnb prize! Seriously nicely done in terms of the contemporary architecture, design, amenities, and functionality. I can't say enough good things about it. Of course, the rooftop with pool is the eye-catcher, and if the weather is nice (which is most of the time in Athens), you won't want to leave it. Even better than the pictures, and Emmanuela from the Hostmaster company was super friendly and efficient in communications and instructions. A dream place, really.

Overall, OUTSTANDING!

One of the BEST Airbnbs I've stayed at! The space is modern and extremely clean--Emmanuela has literally thought of everything to ensure you have an enjoyable an care free stay. The guide book (of which she emails a PDF version in advance) answers practically every question you can think of, complete with photos of icons of every amenity, its location, and operation. Emmanuela is extremely communicative, detailed and organized. She was gracious enough to allow us early check-in, even though we had just booked the night before. As we were stuck in Milos due to bad weather conditions and had to make a last minute flight and stay in Athens, we were extremely grateful for this as we were exhausted from all the travel and delays. I would not hesitate to stay here again and recommend her BNB to anyone traveling to the city. Easy train ride to and from the airport and centrally located.

Thank you so much!

Emmanuela's Athens condo is amazing. We are a family of 5 and it was perfect for us. After 2 weeks of travel, we were pretty much ready to head home and THEN we arrived at her place and we got our travel mojo back. It's even better than the photos. It's very stylish, totally kitted out, exceptionally clean and OMG THAT POOL!!! We loved being walking distance from the Acropolis, close to trendy restaurants and the pool was such a treat to cool off in the city at the end of each day. The information and suggestions provided were perfect. Emmanuela met us at check-in and answered all of our questions. We would DEFINITELY stay here on our next visit. This is my favourite AirBNB to-date.

Best, Cindy and The Ball Family